Three state-of-the-art recording and production studios
Incredible spaces, amazing facilities, unbeatable experiences… it's all here at Cable Plaza. Resonance offers three industry-quality, full-size recording and production studios giving students a wealth of opportunities to hone your skills and give full rein to your imagination.
Let's start with Studio Two because it's a bit different.
If you're learning to engineer, mix and/or produce music, much of the important work takes place in the control room. So in Studio Two, we've built our control room much larger than conventional ones, so it can be used for whole-class sessions. This means you'll have a much greater opportunity to get to grips with the controls and study your chosen craft.
Studio Two is directly linked to two large live rooms, each with separate multi-channel audio feeds, so you can work on two completely isolated sources of music at the same time. There's also direct fibre connection to other rooms and spaces around the campus, further widening the scope of what you can achieve.
Studio Two is home to our full-spec top of the line Audient ASP8024 Heritage Edition, complete with 48 analogue input channels, DLC module for DAW control and automation, integrated patch-bay and a full complement of 48 independent buss outputs for maximum recording and routing functionality.
Studio 2's control room features a pair of multi-award winning Adam S3H studio monitors coupled with an Adam SUB12 subwoofer. These sit alongside a pair of CLA-10's, Avantone Pro's faithful re-production of the iconic Yamaha NS-10 studio monitors.
At the heart of Studio Two you will find Focusrite Pro Red and RedNet converters, with Dante functionality. Studio Two also features a selection of vintage and iconic analogue outboard processors and effects, from manufacturers such as the Teletronix, Dbx, XTA, Drawmer, Waves, Roland, Alesis and Lexicon.
Studio One and Studio Three both have more standard-sized control rooms linked to live rooms in a traditional studio set-up. Studio One features a full complement of world-class microphone pre-amplification via our Focusrite ISA 828 MK2's, which are also fully integrated with our Dante network.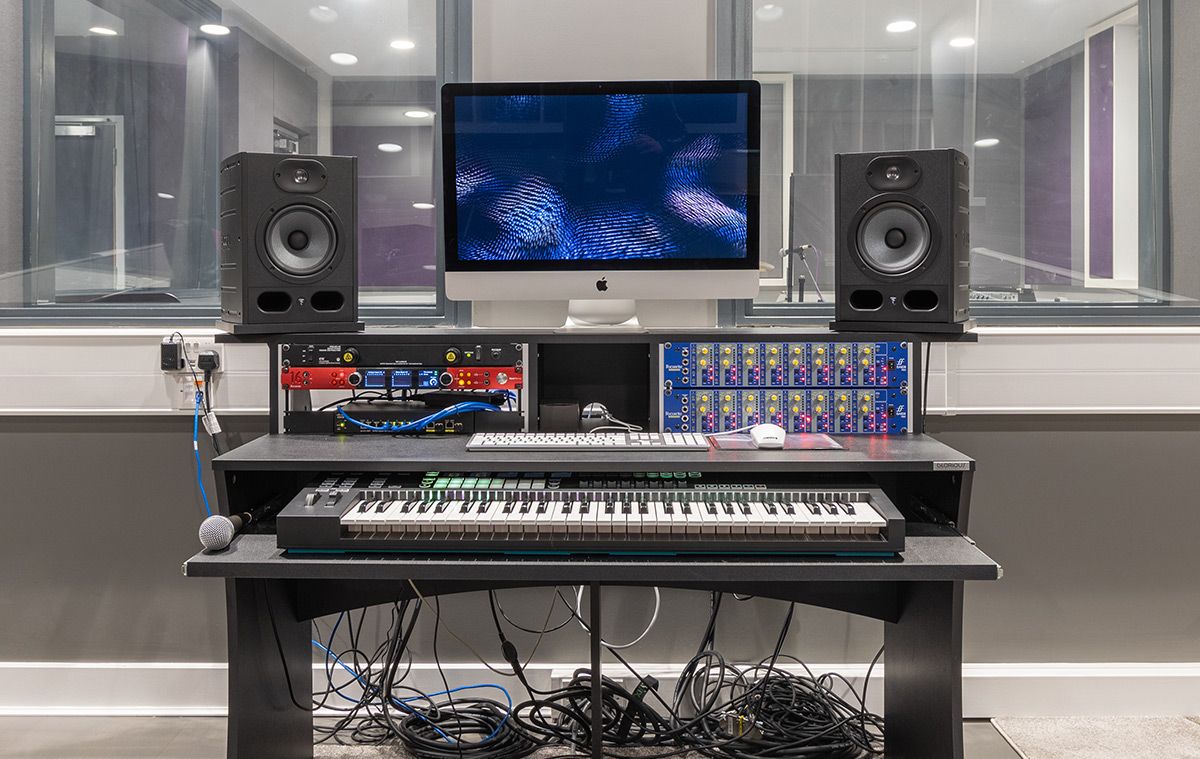 Our recording and production studios offer full analogue, digital and fibre connectivity meaning you can practise 'old school' production techniques as well as getting fully acquainted with the most advanced technologies available in the business. All of which gives you a wider learning experience and makes you even more employable.
All three studios are all fully soundproofed and acoustically treated, and house a selection of professional studio monitors and full complement of microphones from manufactures such as, Adam Audio, Genelec, Neumann, CLA, Focal, Sennheiser, Shure, Audix, Rode, SE and more.
Along with course-specific projects, students will have the opportunity to work with a producer-in residence, and to turn live event multi-track recordings into commercially viable productions.